Description:  The Flying W Ranch has been a major attraction in Colorado Springs for nearly 60 years. On Tuesday, June 26th, 2012, it was destroyed by the Waldo Canyon Fire. The Ranch will be re-built, but I was lucky enough to be offered the opportunity to photograph the main visitor's area less than two weeks after the catastrophe. The owners are willing to entertain offers to film on the premises, but only for seasoned professionals taking proper precautions and with adequate insurance.
These photos are historic. They may be useful as a study for Art Directors, as well as representations of a possible area for production. .. The original Pans offer sufficient resolution to create over a 1080H image that could pan over 20 (1920) image widths. I have placed Pan6 first, because of the stunning overview it offers.
The Owners will begin re-building, so if the area might be useful for a production, time is an issue: so the sooner the better.

Pan6 Directions:     N => E => S      35mm equiv: 50mm
Shot Location:   N 38° 54.999'      W 104° 53.124' Elevation: 7088'
Time and Date of Photography:   8/10/2012  4:10 PM


Pan1 Directions:     E=> S => N    210° -> 290° ->  20°   35mm equiv: 50mm
Shot Location:   N 38° 55.039'      W  104° 53.045'   Elevation: 6964'
Time and Date of Photography: 8/10/2012  3:30 PM


Pan2 Directions:        SE => S =>     35mm equiv: 50mm
Shot Location:   N  38° 55.063'    W 104° 53.176'   Elevation:  7001'
Time and Date of Photography: 8/10/2012 3:42 PM


Pan3 Directions:       N => E => S       35mm equiv: 40mm
Shot Location:   N  38° 55.016'    W  104° 53.176'   Elevation:  7050'
Time and Date of Photography:  8/10/2012 3:47 PM

Pan4 Directions:       S => W => N      35mm equiv: 50mm
Shot Location:   N  38° 55.016'   W 104° 53.197'     Elevation:  7022'
Time and Date of Photography:  8/10/2012 3:52 PM

Pan5 Directions:      N => E =>  S        35mm equiv: 50mm
Shot Location:   N 38° 54.999'   W  104° 53.158'    Elevation:  7001'
Time and Date of Photography:  8/10/2012
Area Map from Flying W Ranch with approximate Camera Locations for each Panorama: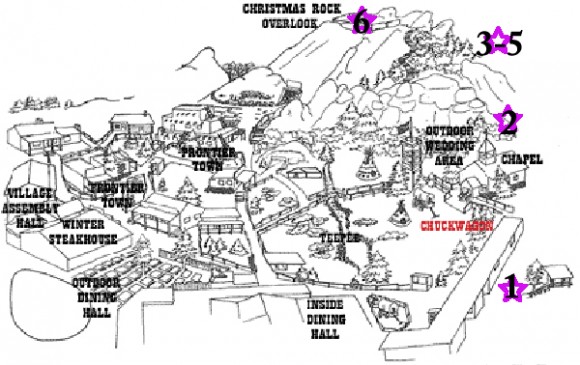 Map of Camera Location: